Nestled in Santo Tomas, Batangas, Gunita Villas and Pavilion is a modern and exclusive retreat. With a venue that offers a minimalist approach to weddings, complemented by boutique accommodations that cater to intimate celebrations. Guinta Villas & Pavilion value simplicity and mindfulness, creating an atmosphere that fosters relaxation and rejuvenation.
Gunita Villas & Pavillion
Acuatico Beach Resort in the Philippines is more than just a sanctuary to reset and recharge – it's also an ideal wedding venue. Just a short drive from Manila, the resort offers a picturesque setting with stunning azure waters and a world-class infinity pool. Whether you're planning an intimate ceremony or a grand celebration, Acuatico Beach Resort is the perfect place to say "I do" and create unforgettable memories.
photo by Bizu Catering Studio
Acuaverde Beach Resort, located in Laiya, San Juan, Batangas, is the ultimate escape from the hustle and bustle of city life and crowded tourist hotspots. Only a three-hour drive from Metro Manila, this beautiful resort offers the perfect blend of comfort, convenience, and nature. The resort boasts one of the widest coastlines in Laiya, providing a perfect spot for both relaxation and activity, including kayaking, jet skiing, flyboarding, and fly fishing. With luxurious accommodations, excellent facilities, and a tranquil beachfront location, Acuaverde is the ideal destination for a romantic and unforgettable celebration, such as a destination wedding.
photo by Acua Verde Resort
Club Ananda's tropical and serene ambiance, set amidst lush greenery, creates a romantic and idyllic setting for weddings. Its charming pavilions, excellent facilities, and personalized service ensure a warm and intimate celebration.
Kawayan Cove is a private residential community situated along the picturesque western Batangas coastline, with Bamboo Beach as one of its main attractions. With only 30 hectares occupied by lots, the property is committed to preserving the natural environment while providing breathtaking panoramic views to approximately 300 prime view lots. The community is equipped with world-class facilities including the Bamboo Beach Club, making it an ideal destination wedding venue with its charming and rustic ambiance, personalized service, and stunning natural backdrop.
Narra Hill is an idyllic event venue located in Tagaytay with a beautifully designed pavilion surrounded by lush gardens and a stunning view of Taal Lake. Its natural materials, double height glass windows, and charming amenities, including a bar overlooking a creek, two gardens, a waterfall, and lagoon, make it the perfect location for any dream event.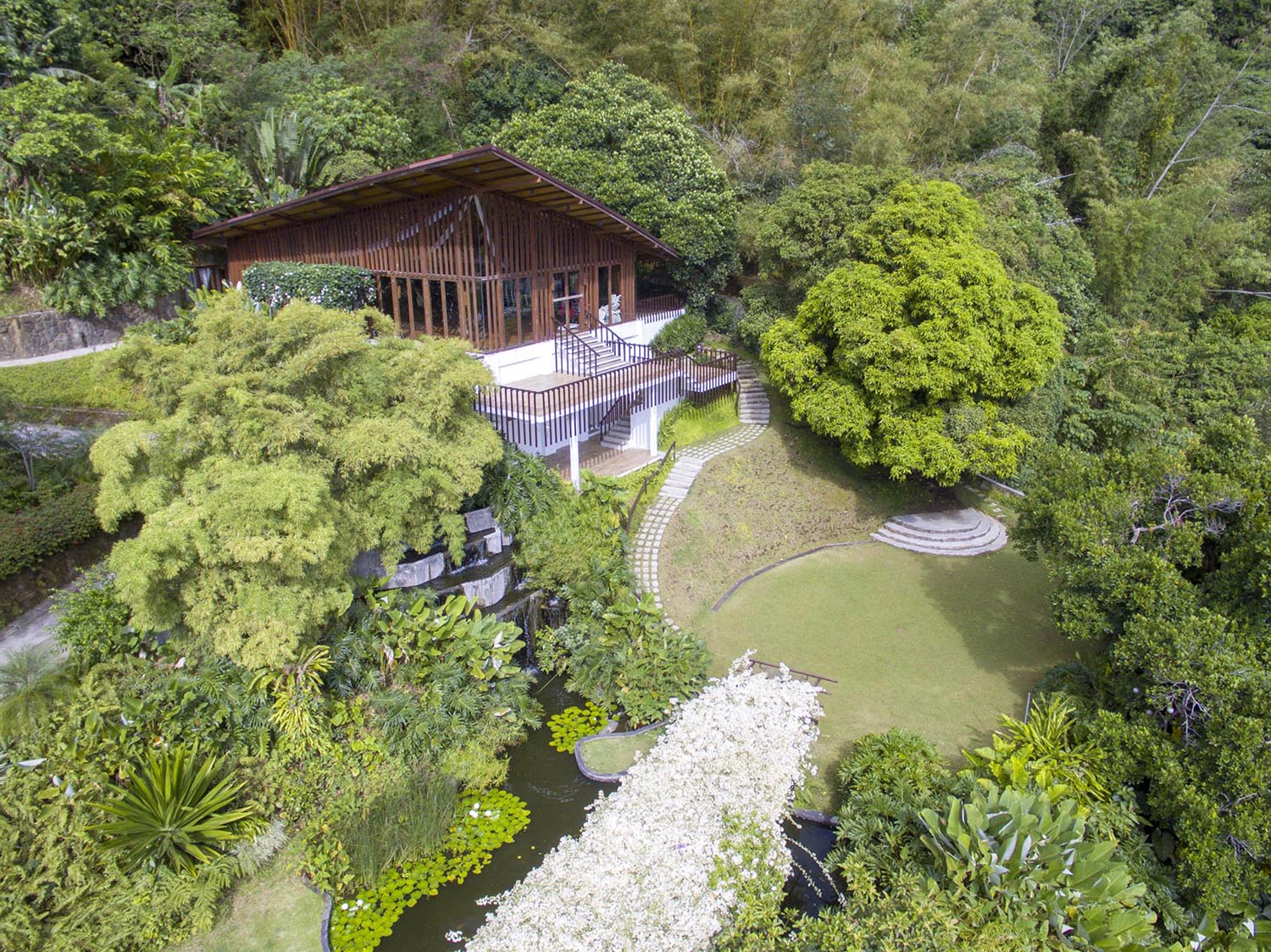 Stilts' idyllic and serene beachfront location, coupled with its luxurious accommodations and exceptional service, make it a perfect destination wedding venue. Its charming and rustic ambiance, personalized attention, and beautiful natural backdrop ensure a warm and intimate celebration.
Stilts Calatagan Beach Resort
photo by Stilts Calatagan Beach Resort
VENUE PARTNERS